Oscar and Selina Nyberg, as written by their granddaughter, Sandy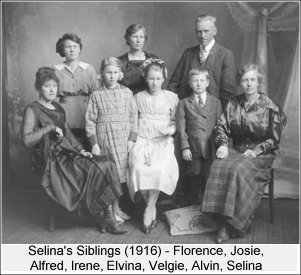 Oscar John Nyberg married Selina Jenson on January 20, 1915 in the Lutheran Parsonage, St. Olaf, IA by Rev. Arveson. Both Oscar and Selina were born in Gunder, Iowa. Oscar has two brothers, Henry and Melvin, and two sisters, Alma and Gena. Selina has five sisters, Florence, Josie, Irene, Elvina, Velgie, and two brothers, Alfred and Alvin. Selina's parents are Jens Jenson and Oleah Olson. Oscar's parents Anders Nyborg and Julia (Guro) Jacobson . Oscar changed his surname his name from Nyborg to Nyberg when he became an adult. His brothers Henry and Melvin kept the Nyborg name. In various writings you will see his name listed as both "Nyberg" and "Nyborg". And the story doesn't end there - we found out Nyborg really isn't Anders' family name to begin with! Evidently, his last name is Hanson; but, when he settled in Gunder, there were so many Hanson families that he changed his name to Nyborg. This has made it difficult to trace Oscar's ancestry.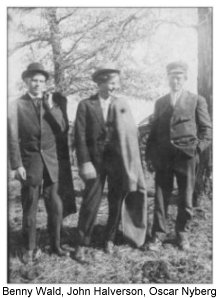 Article in Postville Herald, Norwegians Change Names.
The Norwegians are great on changing their names when they leave their native land and come to the United States. Monday Ben Morch asked us if we knew his right name was Asbjorn Morch Christofferson, and we had to admit that was news to us. It seems when he landed in the community, he asked a judge to permit him to drop the Christofferson part of his name and to make it mere Asbjorn Morch. Then he got a rooming place down at St. Olaf where the landlord's two little boys had a tough time twisting their tongues to say Asbjorn, and finally called him Bennie. This led to Mr. Morch to adopt the simple name of Ben - and there you have his present name. Oscar Nyberg overheard this conversation and informed us that his family name was Hanson. But there were so many Hansons around Gunder; the family adopted the name of Nyberg, which in Norwegian means Newberg or new town. You may not know it but Gunder was named after Oscar's father and at one time that flourishing village was knows as Newberg and was so listed as an U.S. post office. Standing nearby during this conversation was Norris Blegen who also traces his ancestors back to the mighty Vikings. Noris, hearing Oscar's story remarked, "Good thing they changed your name. Wouldn't it have been just a bit too much to have had two Oscar Hansons in Postville."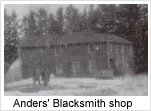 There are three different versions on how Gunder got its name. Of course we like to believe my grandfather's story. The second version from the Postville Herald in 1948 - Harry Gunder opened a general store in the area, and Anders Nyborg (Oscar's father) opened a blacksmith shop around the same time which was the life of the town for many years. For some time the town was referred to as NewBurg but Mr. Nyborg didn't like the name so it was changed to Gunder.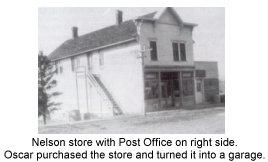 N els Nelson opened a second General Store in 1896 at the corner of the Postville and Elgin roads. In the early years, the west store housed a meat market, the Gunder Post Office and the telephone switchboard. Around 1912, Oscar purchased the Nelson store and converted it to a garage and implement shop. Oscar did repair work and sold gas, oil, farm supplies, machinery and equipment, including New Idea spreaders, Perfection milking machines, corn elevators and Kalo silos. Oscar's brothers, Melvin and Henry Nyberg, assisted him in the business. Ben Mork (aka Morch) was a sub-agent. Alfred Jenson and Frank D. Rounds also worked for Oscar. Clarence Read did repair work in the garage. Oscar had a home power plant in his garage that produced electricity for the shop and his home. In December of 1921, he shared his electricity with the Marion Lutheran Church, supplying the lights for their Christmas service. He strung the wires across the road to the church, fastening them to telephone poles. In 1930, when the road through Gunder was being graded, Oscar's wife, Selina, spread out the dining room table in their home and fed the road crew. With the help of Nyborg's 11-year-old daughter, Dolores, she prepared and served mashed potatoes, meat, pie and all the trimmings.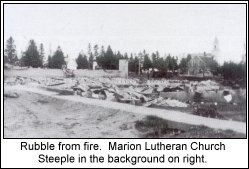 Sat urday, May 8, 1926, a fire occurred at about 9 o'clock in the evening. The fire started in Oscar's garage and implement shop. One account tells that someone was engaged in putting gasoline in the tank of an engine operating Nyborg's electric lighting plant while the motor was in operation. Another story relates that an engine, that was charging a battery for the lighting plant, went wrong and caused combustion. The resulting fire spread very rapidly, and soon the general store, an ice house, a barn and another small building were all ablaze. Oscar was probably the heaviest loser, as his building and entire contents were lost. Nothing was saved in the garage but a gasoline store, which stood near the door. The loss included four automobiles, some machinery, parts and supplies. The telephone switchboard was rescued from the burning building and moved to Nels Nelson home - the switchboard got moved various places over the years, and the final move for the central station was to Oscar's brother's home , Henry and Martha (Larson) Nyberg, just south of Carrie Nelson's house (17456 Gunder Rd.). The Gunder switchboard was discontinued in the early 1950's.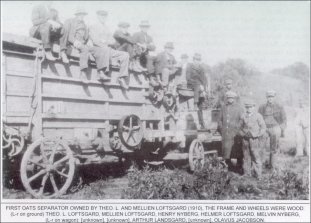 Threshing oats was a big community effort. It took a big machine and a good-sized engine of some kind. Neighboring farmers formed threshing rings and worked together. Oscar's brothers Henry and Melvin, as well as Olavus Jacobson (their uncle) worked the fields for extra money when they were young. Automobiles were a luxury and a horse and wagon could navigate the poor road conditions far better than heavy automobiles. In 1908, the Model T sold for $850, which was not cheap. Bicycles were in their greatest used in the late 1800's as they provided fun as well as transportation. In 1908, a new bicycle sold for $14.95.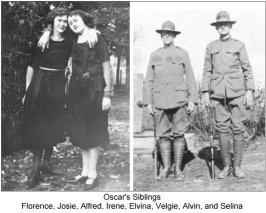 O n April 6, 1917, the US declared war on Germany. The government adopted a selective-service act that required all men between the ages of 21 and 30 to register for the draft. Oscar's brothers, Henry and Melvin Nyborg, and Selina's brother, Alfred Jenson, served in World War I. His sisters, Alma and Gena were 17 and 19 years old. This was the first great world conflict. A Red Cross Quilt was made by the Gunder Branch of the Elkder Chapter of the Red Cross. The names of 498 people from the Gunder and surrounding areas that gave donations for the support of the work of the Red Cross during WWI were embroidered on the quilt. Oscar's name and Selina's sister, Josie Jenson, appear on the quilt. The quilt is now being kept by Ida Mae (Hanson) Kuntz. The fighting ended with an armistice on November 11, 1918.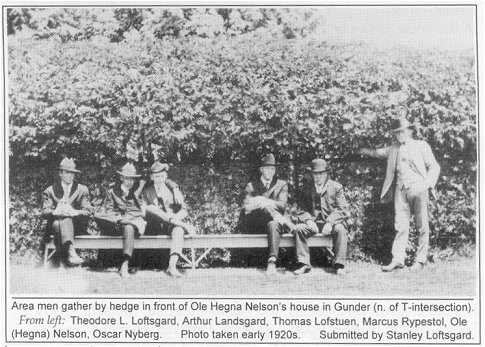 Outdoor activities included picnics, ball games, croquet, horseshoes, wading, swimming, fishing and canoeing. Sunday was the day of rest, relaxation, and getting together with friends and relatives after Church. Children invented their own fun and Oscar's daughter, Dolores, would get the neighborhood kids together to give plays. Even in the wintertime, there was fun to be had making snowmen, building snowforts, and having snowball fights.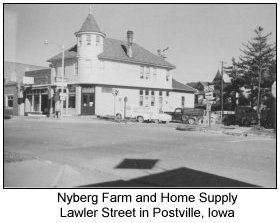 It was now the 1940's. Their son Allard had married Jacky Lane and moved to Postville. Dolores, their daughter (my mom), had graduated from College and married Harland Troy , who was in the Marine Corps so she was no longer in Gunder either. Oscar's parents had passed away and the blacksmith building torn down. Selina's mother, Oleah Olson had died young, and Selina's father, Jens Jenson, had recently passed away. Although there were still relatives living in Gunder, Oscar thought it would be good to move to Postville and open a farm and home supply shop there. He had been working out of his house since 1926 and primarily selling on the road. He was 57 now, and it was time to settle in more. Oscar and Selina bought a building on the main street in Postville on Lawler Street. There Oscar opened up Nyberg's Farm and Home Supply. The shop was downstairs and their living was upstairs. The building is still a landmark in Postville today. Allard helped Oscar with the business.

When Oscar retired, he left the business to Allard - Oscar and Selina moved to a house just a few blocks away from the store. Allard had remarried and he and his new wife lived in the upstairs of the shop. Oscar still would walk around town after he retired and socializes with everyone. Oscar died in 1970 at the age of 83. Selina continued to stay in her house until shortly before she died at the age of 94.

Whenever my mother visits the area, people that knew Oscar stop her and say "you know, I REALLY miss Oscar." Both Selina and Oscar were the best grandparents anyone could have - we miss them very much too!